Start your day with this mint chocolate protein shake! Vegan, gluten free, dairy free and full of nutrition, this mint chocolate chip protein smoothie is the perfect snack or meal! You are not going to believe the fun ingredients in this mint chocolate protein shake!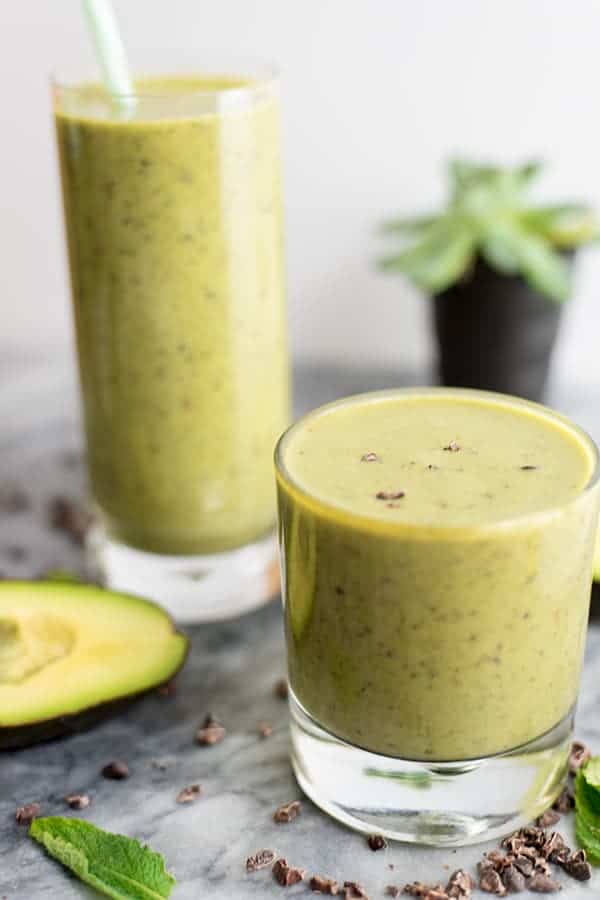 Why you'll love this Mint Chocolate Protein Shake
Hands down one of my favorite ice cream flavors growing up were mint chocolate chip! I loved this ice cream because you didn't have to search around for the chocolate pieces, they were in every bite! And I really love the mint flavor! It's so refreshing and I think mint it's even better when it's cold! This mint chocolate protein shake has all those same characteristics but also has a full serving of veggies, some healthy fats and no added sugar!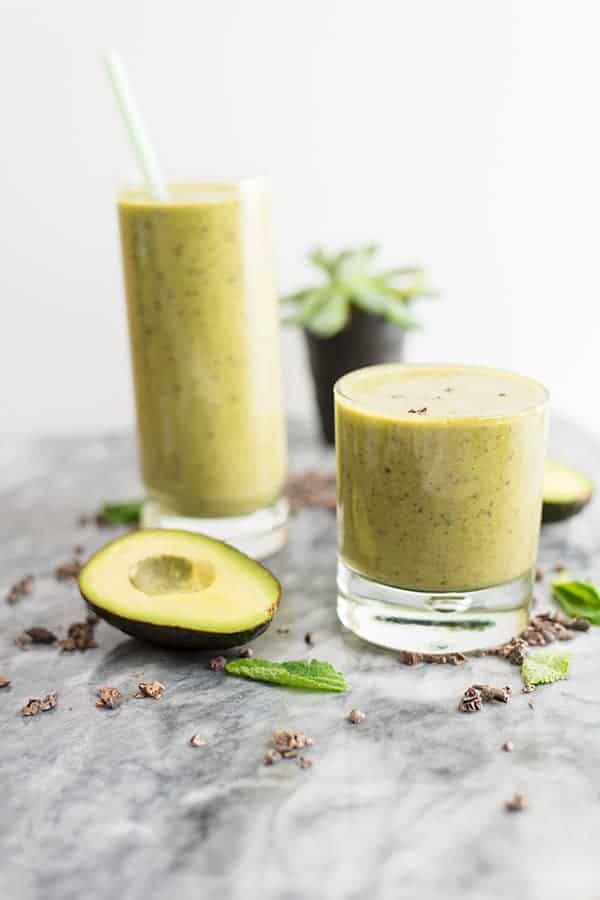 This post contains affiliate links. As an amazon associate I earn from qualifying purchases.
Click here to read my policy
and more about affiliate links.
Why smoothies are great for digestion
Even in the winter months, I love smoothies and shakes as part of my day! I know it's a little crazy to be bundled up under the covers eating a shake, but they really are an amazing way to get your nutrition while still being kind to your digestion. I don't know about you, but when I'm in a rush or feeling very busy with everything I have to get accomplished in the day, I tend to rush my meals. I often find myself eating at my desk, taking hurried bites between typing sentences while working on a project.
Unfortunately, this is terrible for your digestion, as your body is usually only in one of two states: rest and digest or fight or flight. And eating during a stressful time is usually not going to allow that rest and digest to happen. This leads to foods not properly digesting and stomach cramping, bloating and gas to follow. Not a pretty way to start the day!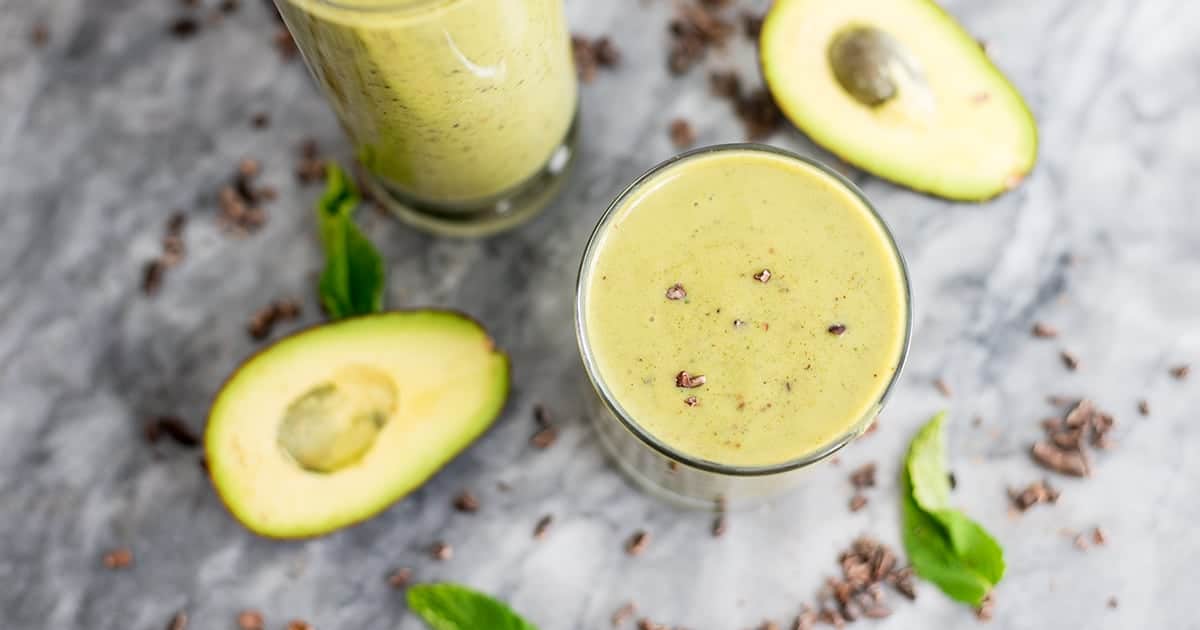 But with smoothies and shakes, since the food is already so broken down thanks to your blender and protein powder, you don't have as much digestive distress. So even if you eat your shake very quickly, you have a higher probability that it won't create such a disturbance in your stomach. Plus if you are trying to eat this mint chocolate protein shake cold, it almost forces you to slow down, since otherwise, you will get a brain freeze if you eat it too quickly!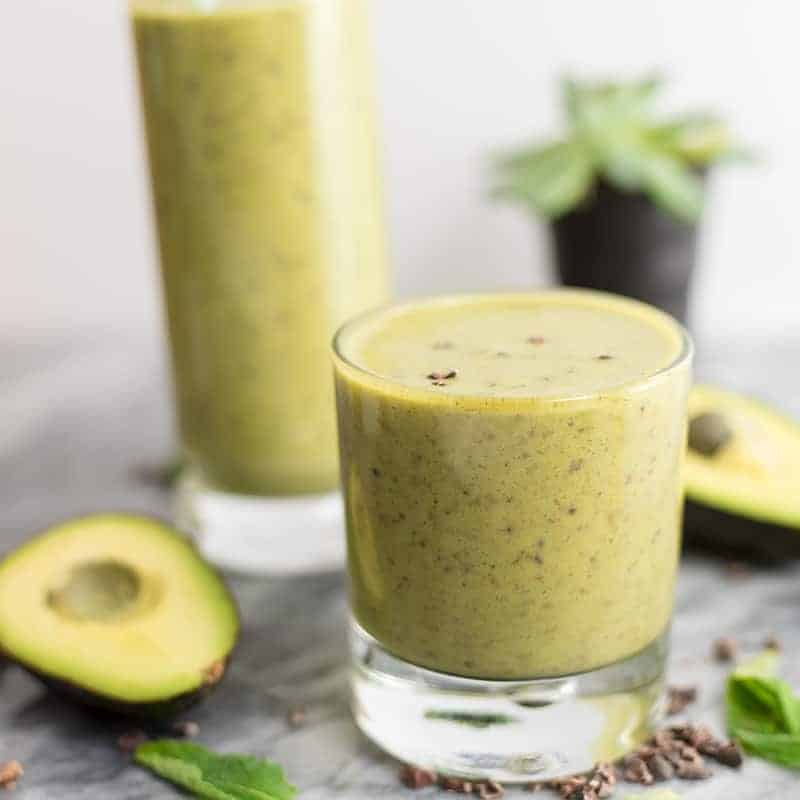 If you love smoothies and are looking for a good post workout smoothie you must try blueberry smoothie – it's so simple but so delicious!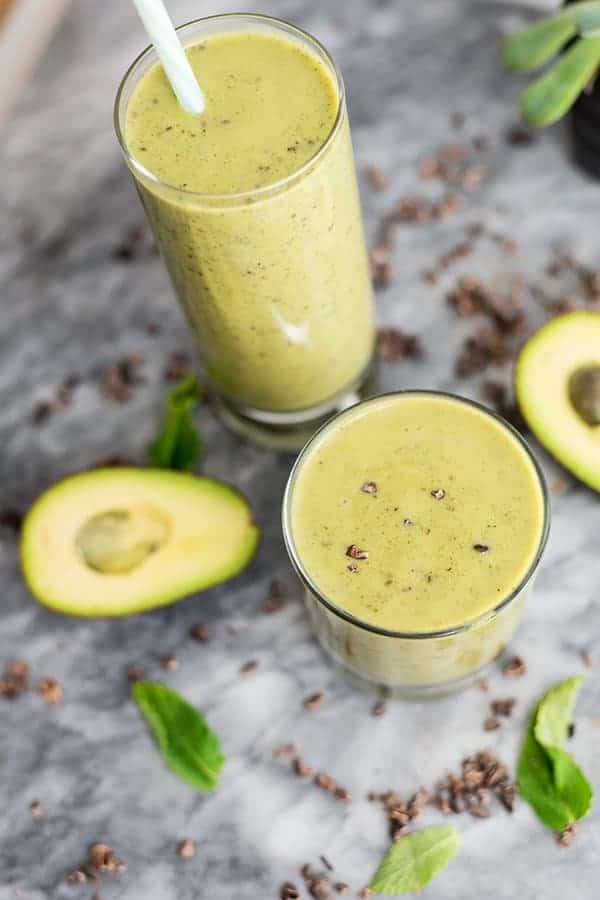 ★ Did you make this recipe? Please give it a star rating below!
In a high speed blender, combine the frozen zucchini coins with the avocado, peppermint extract and 1 1/3 cups of water. Blend well until smooth

Once the zucchini mixture is smooth, add the protein powder and addition 1/3 cup of water. This water may not be needed with a whey or paleo protein powder.  Blend well until smooth

Add 1 tbsp cacao nibs and blend 5 seconds, just long enough to break up the nibs and incorporate them. 

Serve cold
If you do not want to use protein powder, you could also use 1/2 -1 cup of Greek yogurt (regular or dairy free) + 1-2 tablespoons of your favorite sweetener (honey, maple syrup, low carb syrup) or 1-2 dates to sweeten this shake. NOTE: you likely will not need as much water as stated without the protein powder. 
If you do not have frozen zucchini, you could also use 1-2 cups of frozen cauliflower rice in place of the zucchini
See how I calculate food cost.
Nutrition Information
Nutrition Facts
Amount per Serving
Where does nutrition info come from? Nutrition facts are provided as a courtesy, sourced from the USDA Food Database.
Let others know by rating and leaving a comment below!
What about you?
Do you love smoothies for busy days?
What was your favorite ice cream growing up?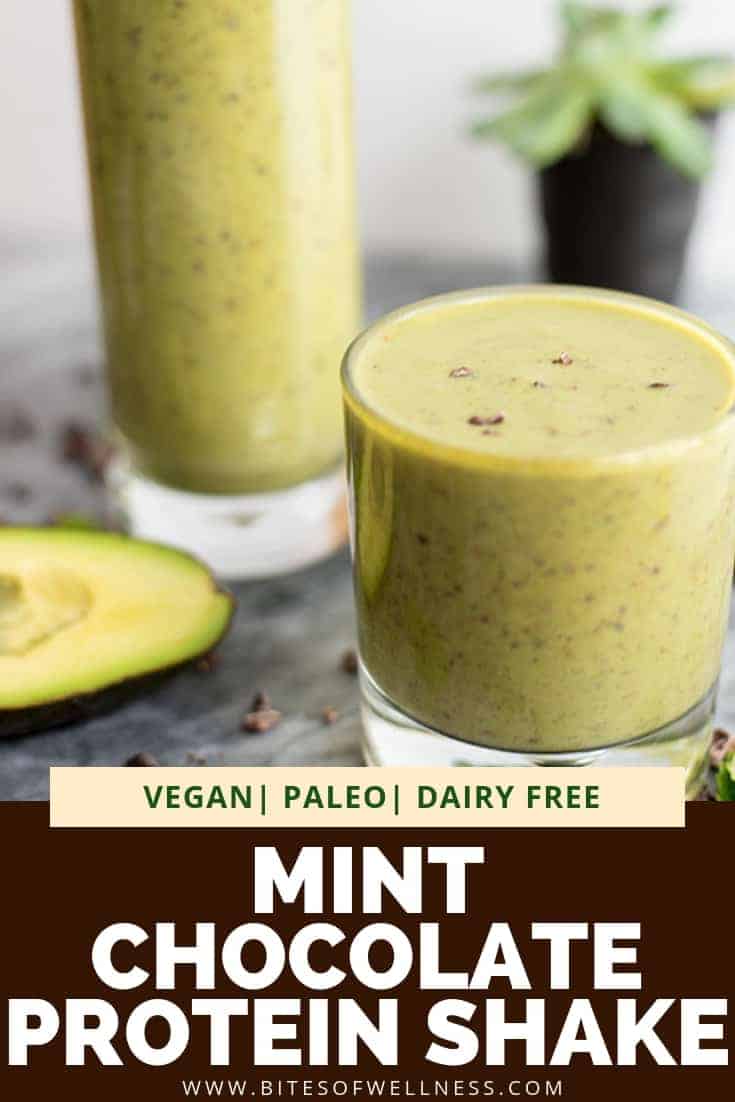 The post Mint Chocolate Protein Shake | Bites of Wellness by Samantha Rowland, appeared first on bitesofwellness.com